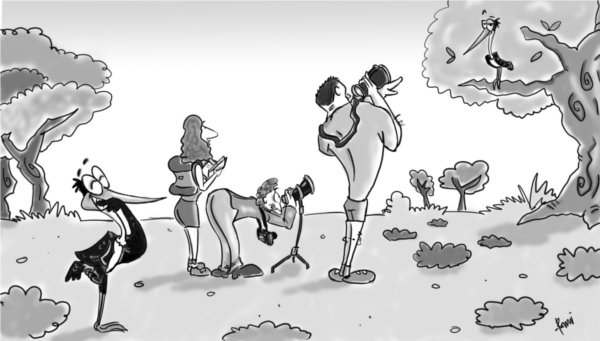 Delhi is one of the finest capital cities anywhere in terms of avian diversity. It offers something interesting in every season, and its remarkable variety of habitats and species makes for an excellent introduction to North Indian birding.
I am an experienced bird-watcher, and I'm available as a professional guide to interested visitors on day trips in and around Delhi. I prefer to work with groups of up to three people, but with sufficient notice I may be able to accommodate larger groups and guide longer tours outside Delhi (especially in Uttarakhand).
You can contact me at abhijit@menon-sen.com
Read more: Bird-watching with me • About me • Charges
"One of my best birding experiences in India was with Abhijit. His level of knowledge is astounding. His ability to spot birds both visually and via sounds is nothing short of remarkable.

In addition to that, he made wonderful arrangements for our trip and was a friendly, wonderful companion the whole time. I am a photographer and he even volunteered to help me carry my equipment!

I look forward to the day I can go on another birding trip with him and give my highest recommendation to him for anyone who is considering his services. Please feel free to contact me if you want to hear more about what a great guide he is."

— Steve Mandel, USA
I like to conduct relaxed day trips, taking plenty of time to observe each species and learn about its characteristic features, vocalisations, behaviour, and interactions with other species in their habitat. I love "birding by ear" and chasing down interesting calls and songs. I try to gain a deeper understanding of each location and its bird life through the seasons, rather than concentrating on any particular species.
If your objective is only to see the largest possible number of species in a given time, I'm not the right guide for you. But you don't need to neglect your life list to enjoy birding with me: I have added up more than a hundred birds in a day on several occasions, including many prized North Indian species.
I have led a number of successful day-trips to Sultanpur, Okhla, and their surroundings. These are areas I know very well—I lived near Sultanpur for some years, I now live near Okhla, and I visit both places often. I also know the other birding hotspots around Delhi. (Contact me for references.)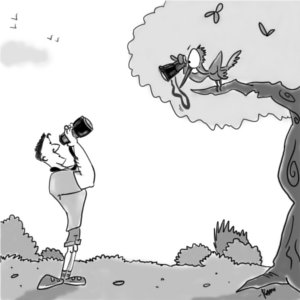 I have been watching birds for over twenty years, and have been seriously interested in ornithology since 2005. I have been devoting more and more time to studying birds, and my growing interest in habitats and ecology has prompted me to start learning about plants and insects as well. Birding is a hobby, not my profession; but I enjoy introducing other people to the birds of my area.
Most of my birding has been around Delhi and in Uttarakhand, the latter including well-known places like Binsar, Pangot, and Sat Tal as well as more remote and demanding areas not often visited by bird-watchers. I also know the Morni hills area in northern Haryana well, I'm familiar with Bharatpur, and I've done some very enjoyable birding in Goa, Karnataka, West Bengal, and Nagaland.
I have been involved in some research and conservation efforts (focused on Pheasants) near Munsiari in Uttarakhand, and am trying to survey and document the habitat and altitude preferences, vocal range, and breeding ecology of the many poorly-known Himalayan species that occur there. I am particularly interested in subalpine forest habitats.
I try to stay abreast of the latest developments in ornithology, and I enjoy various secondary aspects of bird-watching, such as taxonomy and nomenclature. I have been solving photo-identification problems of varying difficulty from across the subcontinent on mailing lists such as delhibirdpix for many years.
You can read some of the things I have written about birds on my web site (e.g. field guide recommendations) and in my journal (e.g. trip reports).
"It was a joy to bird with Abhijit. As a professional wildlife biologist and longtime birder, I appreciated his command of the taxonomy, distribution, and biology of Indian birds. Abhijit is a keen observer, with an excellent knowledge of bird sounds and those tiny field marks that can be diagnostic once one has spent enough time in the field. It is clear he has invested a substantial effort into learning about birds, not only the fine points of identification, but also the relationships and biology that make birds so fascinating.

I further appreciated his sense of respect for birders brand-new to Asian birding. An example of this was his patience in allowing me to revel in my first Red-vented Bulbul, the 'new bird' that I'm sure he knew would soon be on every one of my day-lists not far below House Crow and Black Kite. I highly recommend Abhijit as a knowledgeable and very fun guide."

— Sandra Jacobson, USA
As of 2015, my standard rate for a six-hour day trip with a small group (2–3 people) is INR7000 (approximately €97 or US$107) plus expenses. Send me email to discuss the details, or to request a quote for a different itinerary or a larger group.
You can contact me at abhijit@menon-sen.com